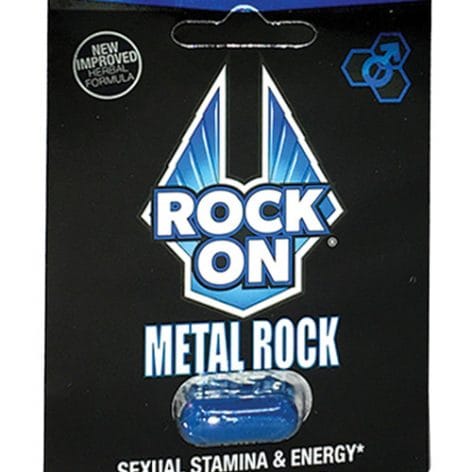 Rock On Sexual Performance Pill for Him 1 Capsule
Rock On Metal Rock Sexual Performance Pill for Him is designed to support maximum male sexual performance, stamina and energy. Rock On promotes: Enhanced male sexual performance, stamina and desire, designed to optimize longer, harder sex, natural herbal blend with vitamins and electrolytes, award winning formula, and matching female formula – rock all night together.
Rock On Pills for Him are specially formulated for optimal male performance enhancement, featuring a proprietary collection of natural herbs in one single-dose pill. Special ingredients designed to help the body optimize blood flow, increase stamina and boost libido without any unsettling side effects – take one before, during or at the end of a night out and an hour later, he'll be revved up, rock'n hard and ready to go all night. Active ingredients: Horny Goat Herb extract, Fanugreek extract, L-Arginine Hydrochloride, Maca Root extract, Vitamin D, Vitamin B12, Zinc, Muira Puam Extract, GABA, Green Tea extract, Long Jack Extract, Caffeine, DHEA, Tribulus extract, Ginseng, Panax extract.
Rock On is an All-Natural mix of herbal supplements and ingredients designed with your needs in mind. Rock On for hours and enjoy a more intense sexual experience. Includes one maximum strength capsule. Use only as directed. Dietary Supplement Disclaimer.
NOTE: This product ships to US addresses only.
Product Description
UPC: 850952005185
Mfg #: RRP-M-1
Male, Men, Mens, Sexual Supplements, Pills, RockOn
In Stock · Condition: New
Order Now & Receive It in 2-4 Days
Discreet Shipping & Billing