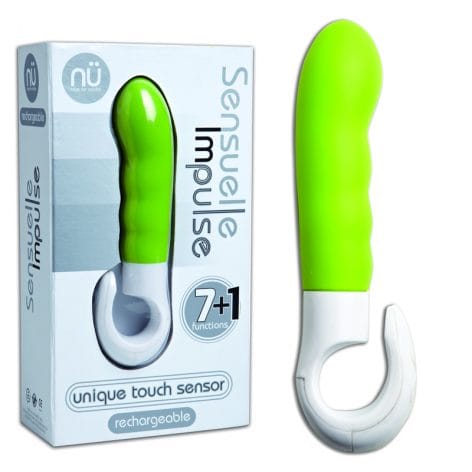 Sensuelle Impulse Green Slimline Vibrator
The Sensuelle Impulse Green Slimline Vibrator features a sleek design starting with subtle grooves, continuing on to the special hook handle. Impulse offers special hidden features aimed to unveil your sensuality. It has a deeply intense motor, with multi function modes, designed to create powerful sensations easily with the touch of a finger. In addition to the 7 vibration functions, the Impulse has a unique touch sensor mode. Upon contact with your body, the touch sensor vibrations will automatically start.
But it doesn't end there. Each groove on the Sensuelle Impulse represents a different sensor region with varying intensities. As you glide along from the tip to the end of the Impulse, the vibrations will increase in intensity the further you move along the shaft. You can switch between the 7 Vibration Functions and touch Sensor Mode at the touch of a button. The special hook handle allows the Impulse to be enjoyed externally or internally, and either as a vaginal or anal toy. The Touch Sensor technology with Graduating Intensity is the future of adult toys, available to you today. The Impulse will introduce you to another dimension of sensuality.
Ultra smooth, silky touch silicone that feels amazingly sensual against the skin, designed to heighten your senses. Easy to recharge in a compact docking station, so that your Sensuelle Impulse is always ready at your fingertips. Vibrator is fully rechargeable and comes with both a plug and a USB charging cord. Impulse is ready for whenever you are in the mood for an amazing experience.
Sensuelle Impulse dimensions: Length 6.4 inches (16.2cm). Width base 1.06 inches (2.7cm) where silicone shaft starts. Width tip 1.22 inches (3.1cm). Weight without packaging: .18lb (81.6g). Includes discreet storage bag. 1 year warranty.
Product Description
UPC: 9342851001760
Mfg #: BT-W41GR
Vibrators, Vibes